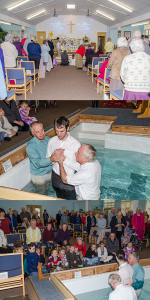 For just as the body is one and has many members, and all the members of the body, though many, are one body, so it is with Christ.  1 Corinthians 12:12
"There are two things in life that you cannot do alone.  One is marriage, the other is being a Christian!"
At ABC we recognise the instruction of Christ to meet together, to support and to encourage one another through fellowship.  There are many opportunities to meet together as a fellowship and some of these are listed below.
You can also see all of the regular activities at ABC on our What's On page.
Small Groups
Ladies Breakfast
Ladies Fellowship
Men's Breakfast
Discipleship Course
Alpha
If you do not find what you are looking for, please don't hesitate to get in touch.