Sharing Christ with others should be a natural part of every Christian's life. We are commanded by our
Lord to carry the gospel to every person on earth. Training and planning for evangelism must be a
major emphasis in every church. Too often the focus in on the membership instead of those outside the
church.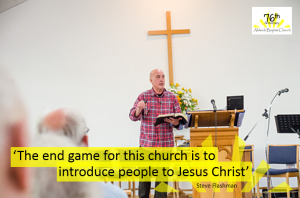 Our desire at ABC is to see souls saved through our Lord and Saviour Jesus Christ.  As Christians, it is our calling to share the Gospel through the love of Jesus to all those in our local community and beyond.
We love to talk to people about what Jesus means to us and we are always sensitively seeking ways to do this.